Interest Rates Going Up! Will Mortgage Rates Increase?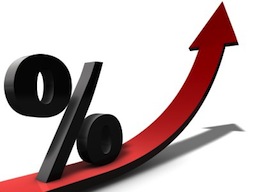 Published On: December 16, 2015 Posted by: mabel zuleta
According to the Chicago Tribune, Not That Much!  "  ..If the economy continues to behave as the majority of economists expect and if Federal Reserve Chair Janet Yellen keeps sending the message she's in no rush to raise rates and plans a gentle path of increases, said former Federal Reserve governor and current University of Chicago Booth School of Business professor Randall Kroszner. Interest rates on mortgages are not determined directly by the Federal Reserve, but are influenced by expectations about the economy and the future of interest rates. Currently, the economy is growing modestly, Kroszner said.
If you want to see where mortgages are going, keep an eye on U.S. Treasury bond yields. When those yields are going up, it means optimism about the economy or expectations of rising inflation. Mortgages will follow the same path. But U.S. Treasury rates, and mortgage rates, could go down if investors start worrying that the U.S. economy is slowing. Some analysts such as Doubleline bond fund manager Jeffrey Gundlach are concerned rate increases by the Fed could slow the economy.
With continued moderate economic growth, economist Lawrence Yun, of the National Association of Realtors, said a 30-year mortgage may go to 4.5 percent, "and at the most 5 percent by the end of next year." At the end of last week, Freddie Mac's survey of mortgage lenders showed the average rate on a 30-year mortgage at 3.95 percent. On a $200,000 mortgage, a rise in rates to 4.5 percent could mean monthly payments of $1,013 versus $954 at 4 percent.
Is your adjustable-rate mortgage going to sting?
Yes. "Be wary," said McBride. Often adjustable-rate mortgages can be reset at a higher rate once a year, and because it's once for a full year, the increases "come in spurts, not drips and drabs." In other words, multiple Fed interest rate increases next year could be blended into one big increase on your mortgage. This is different than credit cards, which will raise interest rates just a little each time the Fed acts. On a $200,000 home that could mean paying about $100 more a month, said McBride.
Have you been having trouble getting a mortgage?
Since many analysts see the Fed's decision to raise rates as a vote of confidence in the economy, that can be good for people who want to borrow money. If lenders were reluctant to lend in the past because they wondered if they'd get repaid, "they may ease up a little now" and grant loans they wouldn't in the past, said Rowe. The assumption will be if conditions are better — if people are getting jobs and raises — there's less risk lending people money. FICO scores, which now have to be almost perfect to qualify for loans, could become acceptable if a little less perfect.
Do you borrow on your home?
Home equity loans typically are pegged to the prime rate, which will climb along with the Fed's changes in rates, said McBride. He predicts you will see your interest rate climb within one to two billing cycles."